Picture this: You and your partner spend a bright Sunday morning tending to your garden, planting flower bulbs and picking out a few pesky weeds. After that, you take a seat on your bench soaking up the spring sun, reading the newspaper with a hot drink. Admiring your luxury retirement village, you sit back and look around at what you have achieved and earnt, and it's not long until your guests arrive for the meal of the week- your famous roast dinner. This roast has been the talk of the Albany Lodge senior retirement community and everyone wants an invite.  
 It's almost time to put the meat in the oven so you head into your fully integrated kitchen to get started. The large kitchen space means that there is plenty of room for two of you to get preparing the best meal of the week, so whilst one of you peels the potatoes the other can start chopping the veg. If you would rather take on the prep solo then you won't be short of feeling like a chef in your beautifully equipped kitchen. Each kitchen in our  independent living community apartments have all of the mod cons you would expect so not only do you now have the perfect space to entertain guests in your private indoor and outdoor space you also have everything you need in order to cook for those you love most. 
 When you move into Albany Lodge, Derby we will take care of everything including integrating all the mod-cons you might need to entertain guests allowing you to cook up a storm. Each kitchen in our retirement living village is fully integrated and has a modern feel to it but with enough space and light to ensure that you can bring in your own touches. The layout of the Albany Lodge kitchens should help recall memories of kitchens of the past, provide space to dance whilst cooking, and inspire creativity to test and perfect recipes in your new apartment.  
We know that entertaining is important, which is why we have designed our kitchens with you in mind, giving you the perfect opportunity to make new memories at the heart of your home. The ceramic hob is a fantastic cooking station and we have no doubt that you will use it to cook a mind-blowing cheese sauce for your famous cauliflower cheese!  
 When you enter your retirement living apartment you'll notice the integrated electric oven is set at waist height so it's easy to pop those roasted potatoes in, and with slip-resistant Amtico flooring, you'll be able to move around as fast as you like without slipping and dropping the Yorkshire puddings! 
 Even if you worry about making a mess with countless pots and pans, your kitchen at Albany Lodge will have a trusty dishwasher on standby ready to clean them all. The high-quality stainless steel extractor hood will help to clear away any hot air or burnt smells if something does go slightly wrong (or the roasted carrots get a little chargrilled).  
 Living at Albany Lodge will be something to be proud of. Your guests will be able to sit in your stylish lounge and admire your state-of-the-art kitchen with a glass of wine (plus you can still chat to them if you find yourself suck in the kitchen cooking). This open plan design gives you a wider area to socialise with guests which is perfect for hosting family and friends! In your luxury retirement apartment, there is the space to enjoy hosting, entertaining and most importantly creating new memories.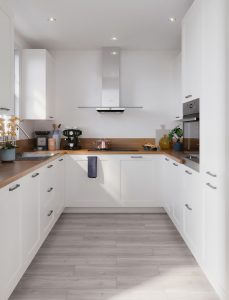 Your luxury apartment will provide you with a kitchen where you can cook up some wholesome meals and enjoy time with family, friends and maybe even your new neighbours. So why not start making those memories and book your luxury retirement apartment now to become a member of the Albany Lodge community.