Before moving to Albany Lodge, you may feel worried about being lonely or not finding the right social clubs to fit into however, we have some great suggestions of community clubs nearby which will keep you active both mentally and physically.
Building a community around you and is a key part of feeling at home wherever you live, and we have some great suggestions of groups you can join, from staying fit and active to discovering a new found academic subject.
 U3A 
The University for the Third Age is a nationwide organisation which has a range of locally run interest groups, Derby is home to a huge range of different groups from learning about local history to learning to play the Ukelele! Joining a U3A group will allow you to become a part of a community with people who have the same interests as you, and have fun learning something new. It might even be the motivation you need to finally get round to starting that thing you've always want to learn but just never had the time to! With a number of meeting centres across Derby you won't have to go far from your lifestyle village to attend your meetings and classes. To find out more on groups and about joining U3A click the link below, because you might just find a new passion and make friends along the way! 
https://u3asites.org.uk/derby/page/45535 
 Golf Courses and Clubs  
If you are a fan of golf and enjoy playing with your friends, Derby has a couple of great golf courses and clubs to choose from. Choosing retirement living in Derby comes with the benefit of the picturesque setting of the Derbyshire countryside. Taking up golf will mean that you are able soak it all up with a few friends and neighbours from the Albany Lodge retirement living community – making golfing a great way to spend a sunny afternoon and enjoy the company of others!  
We like to play a round at "The Derby Golf Club" as it has a range of facilities including a club lounge to enjoy a cool beverage after a few holes with your Derby retirement living neighbours. For joining information about the multiple golf courses across Derby click the link below.  
http://www.derbygolfclub.co.uk 
 History Societies  
Derby has heaps of history to uncover and investigate, plus if you want to meet likeminded history buffs, the city has some fantastic societies and groups who meet fortnightly to discuss the Derby's rich history. Even if you are not from Derby, learning about its history might make you feel more at home, as stories from the past are shared, you might find a particular interest in a part of the history of Derby. The Derbyshire Historical Society covers everything from family history to architectural history. So whatever interests you joining a history club would be a good way to get to know the area around your new home and when you have visitors to stay, you will be able to impress them with facts you have learnt!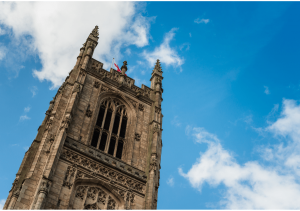 Keeping Active 
For those who are passionate about staying in shape and enjoy exercise, Derby City Council run sports groups for all ages and abilities, so even if you struggle to move as fast as you once could, there is a club for you! Walking football takes the classic sport and slows it down a notch so everyone can keep up. Keeping active in later life is important and can be much more fun when done in a welcoming group, so if you were in a sports team as a youngster or if you just love the game, there is no reason not to keep up what you love in your retirement. 
 Gardening Groups  
Gardening can be an activity people do to keep calm and immerse yourself in nature, it is also extremely satisfying to see your hard work (of looking after your plants) flourish and become something beautiful. The Chellaston In Bloom group is just one example of a great local gardening club you might want to join, or if you are looking for a challenge, the Royal Horticulture Society is a brilliant group to join if you are already green fingered and handy in the garden. They work in collaboration with smaller groups like Chellaston in Bloom around the country and becoming a member allows you to have access to all of their gardens and the monthly newsletter which might give you ideas to bring to your gardening group.  
Derby has so much to offer and becoming part of a group, club or society will make you feel not only at home in your retirement living apartment but also in the city of Derby. Making friends with likeminded people who enjoy the same things as you is really important when settling in a new place. After working all your life, you deserve to dedicate your time to doing the activities you love most with the chance find new passions whilst living at Albany Lodge.