By Maggie Wilkinson
Do you sometimes long to have a go at drawing and painting, but find the sight of a blank, white page daunting – with negative thoughts of not wanting to make a mess? Sometimes, we need to make a start in a small, gentle, and easy way, to get our creativity flowing again and to restore our confidence. Think back to when you were a child; do you remember those cold, wet playtimes when you couldn't go out, and how cosy and enjoyable it felt to be cosseted up indoors in the warm and colouring in?
Colouring is now a really popular hobby, with fabulous books designed especially for the adult market. Grown-ups are finding immense pleasure in this relaxing craft: the contemplative peace of sitting at the table at your retirement village living and setting out the supplies; then, the simple comfort of laying down the colours, bringing the picture to life with your own handiwork. What a delightful way to spend an afternoon, perhaps with your grandchild or craft group, working on your pages together, side by side.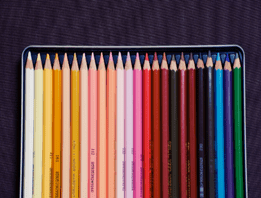 Before you take the plunge and buy expensive books, why not click on the links below and print yourself off a selection of free images that appeal to you?
Supplies you can use:
Pencil crayons – these are a great medium to start with, and they vary enormously in price and quality. All the "colourists" have their favourites, and the serious devotees often have several sets. Pencil crayons are more forgiving and subtle than felt pens, with less chance of bleeding through and spoiling the drawing on the other side of the page. The Staedtler 157 SB24 Ergosoft Triangular Colouring Pencils are good, and come highly recommended by the creator of one of the loveliest series of colouring books, Johanna Basford. These are brilliant, relatively cheap, and a perfect place to start. The colours lay down very softly and are easy to layer and blend. Always lay a sheet of clean white paper under the page you're working on, to prevent marking the underneath design.
Fineliners  – These are very posh felt-tip pens, brilliant for complimenting, enhancing, and highlighting your pencil work. The tips really are very fine and work well for tiny shapes, adding decorative dots, lines, and flourishes.
Colouring Books – Johanna Basford has designed and produced a series of beautifully drawn colouring books. She has even drawn a very sweet and free colouring book, which you can download and print as a pdf—see the links below. Johanna offers inspiring, free online tutorials, and there's a very friendly Facebook community who generously share their work, tips, recommendations, and ideas.
Johanna's Free Book, "Flourish"
Another way you can ease yourself into creating with colour is to start a journal— a small book to fill with doodles and sketches, inspired from little things you see around you whilst at your retirement community near the sea or out and about, or your thoughts. It's fun to collect ephemera from places you visit and stick them in, embellishing by hand.
It's truly rewarding to give yourself the time to be creative, and everyone is creative - we just forget to use it! So, why not check out these links and inspire yourself?